Basket Crane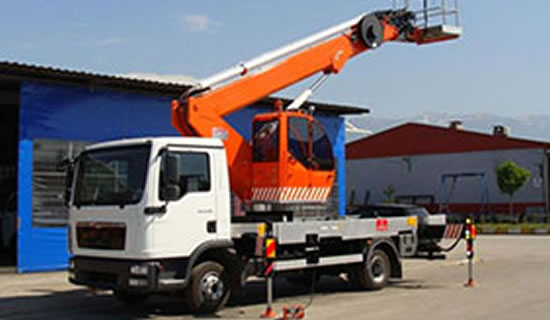 These are hiab machines used in tasks where it is required to work at a height, such as putting up flags, posters, exterior painting-coating-cleaning and steel installation.
They can move in traffic without requiring a separate transportation vehicle as the basket crane is mounted on a truck. This is why basket cranes are used in 95% of building constructions in urban areas. They are available in different types ranging from 24 meters to 65 meters. The most common models are available in 24 - 43 meters. They are mostly used for hauling and renovation tasks in universities and municipalities, maintenance works requiring lifting and baskets in shopping malls, in difficult-to-enter facility areas, exterior maintenance and repair tasks for public and commercial buildings, telecommunication base station-tower/rooftop renovation tasks and putting up billboards and panels
They have a wide range of use as they are utilized in lifting up people. These machines are also commonly used by fire fighters and power transmission line staff.
Other Customers Also Rented
These Products May Also Interest You